Part of the fun of living abroad are the opportunities that sometimes arise simply because "you're not from around here." One friend hosted a radio program when she was one of just two foreigners living in a third-tier Chinese city. Another became a regular on a morning TV program in Japan. One time in Korea, my travel companions were interviewed for the nightly news for their thoughts on the kimchi festival we attended that day (slow day in news?). And over the course of the years I've been wined and dined or upgraded (and yes, downgraded, too) simply for being a foreigner.
The latest in our personal chronicle of Expat Adventures came about this week. A friend's husband is very involved with the local classical music scene, and through this connection we helped review some of the translations of promotional materials for a new competition for young pianists, the Astana Piano Passion (alas, we were not asked to comment on the competition name!).
This contest seems to be a pretty well-funded initiative, consistent with impressive levels of spending in support of the arts locally. Astana regularly brings in world-class musicians for performances to grace the stages of its arts venues include both the neo-classical Opera House and the Manfredi Nicoletti-designed National Concert Hall, the former dripping with gold leaf, crystal chandeliers and marble floors, the latter with Steinway grand pianos and state-of-the-art acoustics.
Inside the Opera House
Opera House foyer
Kazakhstan National Concert Hall
Kazakhstan National Concert Hall foyer
Under the Artistic Direction of Denis Matsuev, a pretty big deal in the classical music world and in the Russian-speaking world (Fun Fact #1: he played during the Olympics closing ceremonies at the Sochi Games; Fun Fact #2: he's
played at the Hollywood Bowl
), in its first year it drew mostly a regional (i.e., Russian-speaking) crowd. Now in its second year, the contestants and jury members included those from Europe, Korea, Japan, China, in addition to Georgia, Russia, Belarus, Ukraine...and of course, Kazakhstan.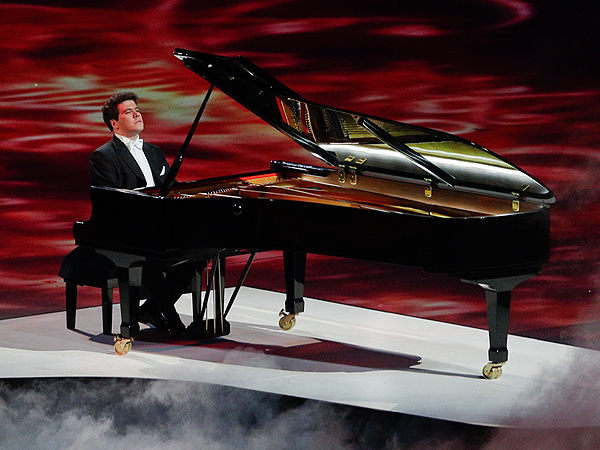 Denis Matsuev in Sochi
Taking place over a week, the competition consisted of opening and closing showcase concerts, live semi-final rounds, master classes and social activities for the contestants, and a final round of competitions. Prizes include cash for contestants - and in a nice touch, their teachers, as well as scholarships to music summer camps and festivals, in addition to all expense-paid trips to Astana for the event itself. Much of the program was livestreamed on the internet. Altogether it's a pretty impressive effort.
In addition to a glamorous Kazakh & Russian-speaking hostess, they also wanted an English-speaking host. And none other than the silver-toned Kevin got the job.
For all of the competition rounds,
Kevin
found himself introducing the jury, the contestants and their programs - which was harder than it sounds. Try your hand at some of the contestant names:
Sanzharali Nurlanaliuly Kopbayev
Gleb-Joseph Sergeevich Romanchukevich
Sanzhar Mukhtarovich Zulруkharov
And, for the musicians out there, try your hand at some of the contestant's pieces. The 10-17 year old pianists were required to choose a piece by a Kazakhstani composer. Bonus: sheet music is available for
free download
.
I was able to attend a number of the events as well, and wander between backstage with Kevin the front of the stage to watch the musicians. We certainly saw our share of Tiger Moms - those prodigies are not all self-created!, and sweet moments...like the tiny Japanese pianist who came out on stage in her fancy floor-length gown but before she could play she got under the piano to install her own pedal booster... and then got back down to disassemble and take it with her after playing her pieces.
But our favorite musician, both backstage and from the audience, was the gracious and talented Alexandru-Cadmiel Boţac, from Romania. You may want to remember his name.
Alexandru-Cadmiel Boţac
Backstage, Kevin noted that he was the calmest and friendliest of all the musicians. (He also spoke English very well, which made it possible to chat with him), and while his mother was with him, we only learned who she was on the final day of competition. No Tiger Mom there. And from an audience-member perspective, I'm certainly not an expert, but it was clear to me that his performances were compelling - more controlled in dynamics, strong technique, and really, the most sophisticated of the contestants. The audience and orchestra gave him a standing ovation for his final round performance and wouldn't stop until he played an encore, one of his own compositions. I won't be surprised to hear of him going far.
We attended the Closing Concert as "civilians" and enjoyed seeing the kids we've been watching all week receive their awards. Alas, due to a doozy of a cold I passed on the Gala, and Kevin, always the gentleman, escorted me home as well. We were sad to miss the final opportunity to celebrate with our favorite prodigies.
In case you are now so interested that you want to know more, the final concert is
posted on YouTube
, featuring performances by all the first prize winners, Denis Matsuev, and the Astana Symphony. There are probably worse ways to spend two hours, but not sure that it merits a full screening. For a flavor of the announcers you just have to go a few minutes in... as Kevin doesn't speak Kazakh he wasn't eligible to do this event, but he's already been asked to host again next year if we're still in Astana.
And if you know any talented young pianists, tell them to start preparing. The next competition will take place at the
same time next year
.
Piano prodigies. and 10 year old boys.